August 13, 2019 0 Comments Asia
A Guide to Backpacking Vietnam in 28 Days
When you take a look at Vietnam on a map, it might seem impossible to explore the long skinny country of Southeast Asia in just one month. However, it will be difficult and require a lot of moving around, but it's more than possible to see most of the main attractions of Vietnam in just 28 days. The most difficult part is figuring out an itinerary that will allow you to see as much as possible before you need to head home.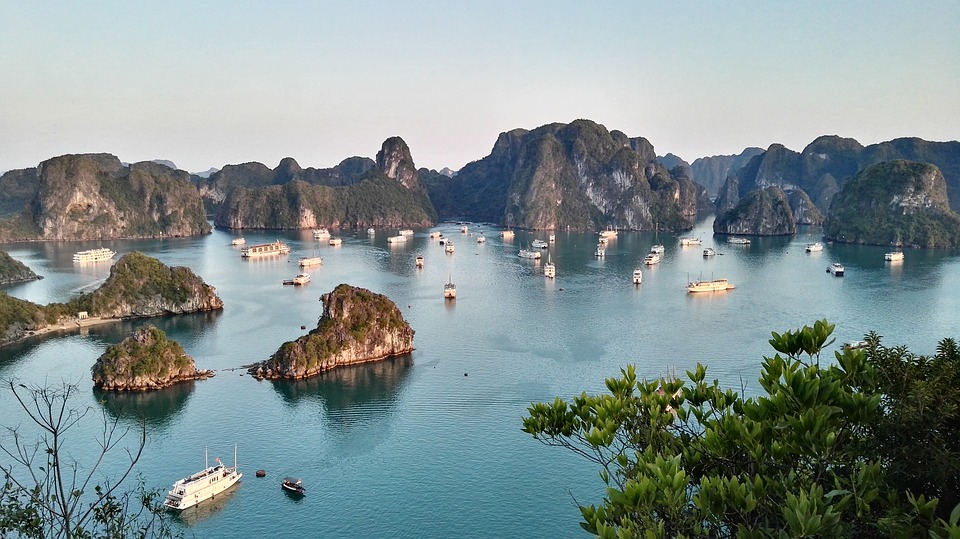 Whether you go from Halong Bay to Ninh Binh or the other way around, use this 1-month itinerary for backpacking through Vietnam as your guide. Just remember, you only have 4 weeks so try not to linger too long in one place. No matter how much you love Hanoi, Ho Chi Minh, or Sapa, remember that you're on this journey to experience as much of Vietnam as possible.
Start the Adventure in the North
Technically a trip to Vietnam can start in either the north or south, but for the sake of this itinerary we'll being in the northern city of Hanoi. Hanoi is the stunning capital city of Vietnam and it is filled to the brim with rich culture. After walking around for just a short amount of time, you'll see the unique Chinese and French influences throughout the city. 
After spending a few days in Hanoi, it is time to get a move on. Head to the nearby countryside of Sapa. This small town in the northwestern mountains of Vietnam is a popular trekking spot, but it is also nice to just sit and look at. If you feel comfortable on a motorbike, this is the perfect time to showcase your riding skills. The winding hillsides of Sapa are ideal for motorcyclists hoping to get a rush of adrenaline. 
Time to Go to Halong Bay
Halong Bay is arguably the most popular attraction in all of Vietnam, especially if you love the water. From Sapa, you can pass through Hanoi once again or go straight to Halong Bay, the choice is yours. Once in Halong, don't be surprised if the blue waters tempt you to stay put for the rest of your trip. Spend a few days here, but then it's time to move on once again.
Make Your Way Down South
So far, the itinerary has included only Vietnamese destinations in the north, so it is time to head down south. From Halong Bay, make a quick stop in the quaint little town of Hue. At one point in Vietnamese history, this small town served as the nation's capital. This is where Nguyen Dynasty emperors sat on their thrones. Be sure to check out the Forbidden Purple City while in Hue. 
From Hue, take a train to Nha Trang. It's quite a journey and will take the entire day, but stopping in Nha Trang is a must. This is the perfect place to let loose and have some fun on the water. A lot of adventure sports enthusiasts come to Nha Trang for its numerous opportunities for kitesurfing, parasailing, and other water sports. 
From Nha Trang, make your way further south to the beach resort town of Mue Ne. The beaches here stretch far and wide, lined with palm trees from one end to the other. Just like Nha Trang, it is a paradise for lovers of water sports. Here you can spend time kitesurfing and sailing, but the vibe is much more laid back than Nha Trang. 
Spend Some Time in Saigon
Saigon, officially known as Ho Chi Minh, is a famous city of Southern Vietnam. Similar to Hanoi in the north, this city was inspired by French and Chinese influences. You'll even find Notre Dame Cathedral in the heart of Saigon. If you're hoping to experience Vietnamese culture at its finest, this is the place to do it. The blend of French, Chinese, and native cultures is what Vietnam is all about. 
When you search for must-see sites in Saigon, you'll quickly notice that many of them have to do with terrors experienced by the people of Vietnam over time. The War Remnants Museum gives an in-depth look into the Vietnam War and what it was like for soldiers fighting on the frontline. This is all a part of Vietnam's history, and the locals just want to share these experiences with you. 
---